New designs just hit the store!
Posted June 7, 2022
Hi, all! Long time, no update! I know it's been really quietly here lately, but, with my first show of the year being last weekend, I finally got back into making some new pieces. I actually intended to get back to my jewellery work in March, but have been busy dealing with commissions as a freelance digital artist. First was a book cover commission that took much longer than anticipated and shortly after that one was completed I had a commission to paint a fantasy themed business logo.I actually have a second commission for another fantasy themed business logo that I'm working on currently, but, in between these two, I managed to get a decent number of pieces made for last weekend's show.
Here's a quick peak at what's new!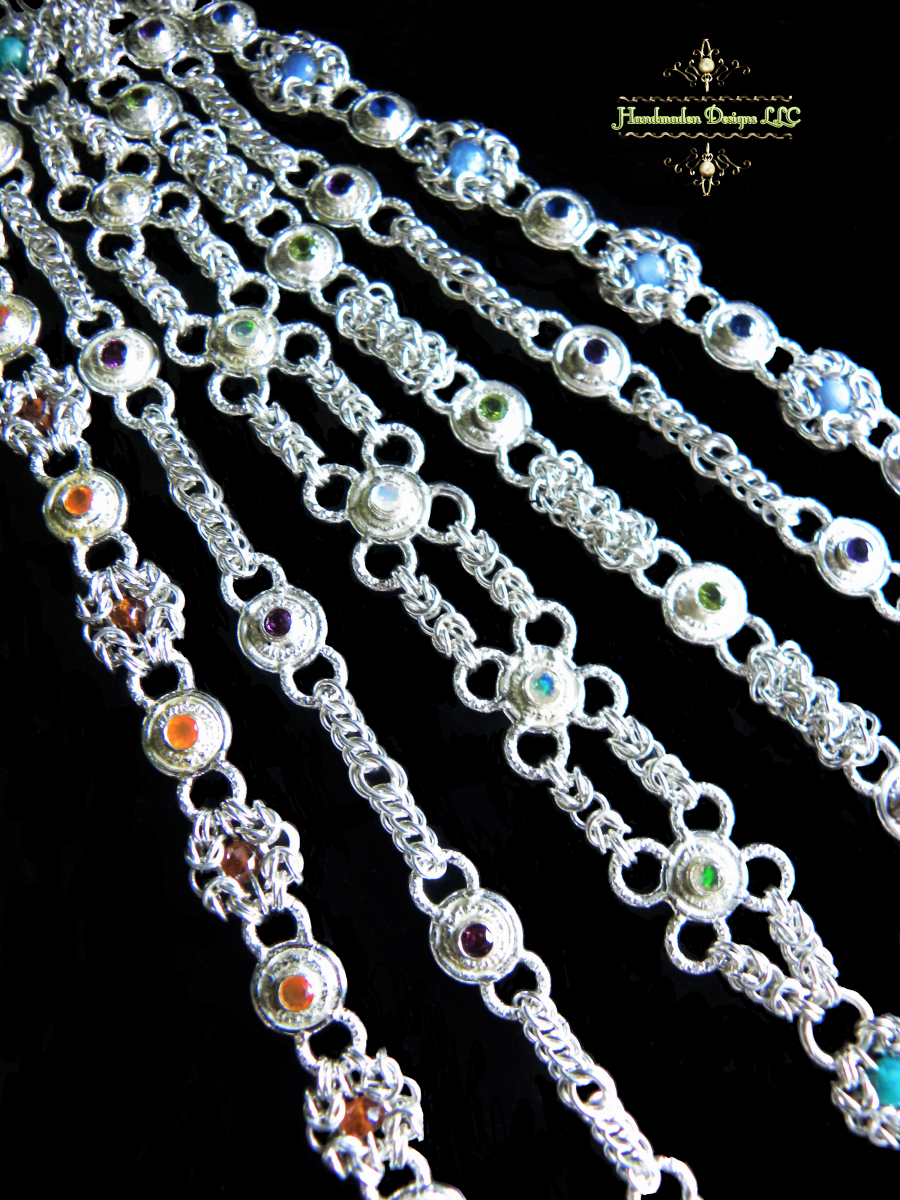 Since ther earlier collection was so well recieved, I decided to make some more of those sort of Art Deco-ish bull's eye links with the tube settings. This time though, I had a couple of new link designs with them that I wanted to try out and made some three and four ring connector links in addition to the regular two link ones. The peridot bracelet has already sold and featured a brand new weave that I came up with when working on that piece. I'll be making a sample chain soon(ish) and adding it to my weaves gallery, but, if you'd like to see more of that bracelet, it's in my sold gallery.
I was really excited about this collection as i finally got to work with some new stones I bought near the end of last summer, but haven't had a chance to use yet. In addition to the 3mm faceted stones that I already had, I added Carnelian, Amethyst, Hessonite, Ethiopian Opal, and Kyanite along with replenishing my Peridot, Rhodalite Garnet, and Black Spinel.
In addition to the bracelets above, I've also added a few new earrings.

Everything that was left after the show has been added to the store and, after a break for the rest of this month (unless a custom order comes in), I will be back at making even more new pieces in July! I already have several new ideas including a few brand new link designs that I can't wait to try out!
If you like these designs, remember, when you choose to support me on Patreon you will get first-looks at all new pieces with first dibs options along with a 15% discount!