About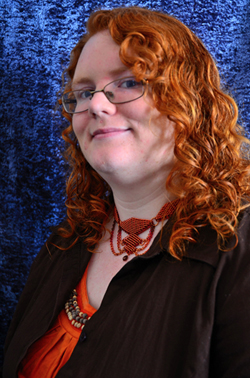 Laura Hepworth - Artist Statement/Artist Bio:
Although I now reside in the tiny speck on-the-map city of Standish, Michigan, I was born in Cork City, Ireland where my parents served as missionaries for 13 years. I lived in Ireland for many years, and spent a lot of time traveling back and forth between the U.S. and Ireland with my family.
I have an Associates of Fine Arts, and have taken one Silver I workshop at the William Holland School of Lapidary Art, however, apart from that one workshop, I am self taught in making/designing jewelry. My parents spent years trying to find me a 'hobby,' and the only thing that ever stuck was the bead kit they had given me when I was six. Little did any of us know that it would lead to the passion I now have for jewelry and to Handmaden Designs LLC!
Jewelry is not the only thing that I have a passionate interest in-- I also have a love of history. It is this combination of my love of jewelry and history that inspires my work. So much of what you see today has lost the beauty that jewelry once had; its become purely functional with every piece looking the same (with many of them being made in China and breaking the minute you take it home and go to put it on). With my jewelry, I try to restore the former beauty and originality that jewelry once had, by looking to the past for inspiration. Sometimes this inspiration comes from studying the jewelry styles worn in the past and making them relevant for today, while other times the inspiration may come simply from the techniques and materials used to create a piece. One of my favorite techniques is the art of chainmaille, an ancient technique invented by the Celts for creating more effective armour. Today though, chainmaille is used for far more than body protection. It may be used for everyday clothing, furniture, home decor, sculptures, and, my personal favorite, jewelry.
Besides having a love of history, I also happen to be an incurable rockhound and could spend (and have spent) hours digging up rocks at beaches, sifting through buckets of rocks at open-to-the-public gem mines, and stopping to look at random pebbles along side the road. I have boxes of rocks all with the potential to look beautiful just waiting to be cut, polished, and turned into one-of-a-kind jewelry. Anything related to gems, jewelry, and history and I will try and learn it.